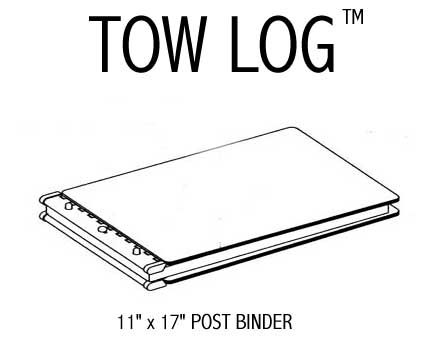 Visit WWW.TOWLOG.COM
CALL US TOLL-FREE FOR A BROCHURE (1-888-4-TOW-LOG)
What makes TOW LOG different from other vehicle storage logs is the concept and design. Unlike a book that can come apart with heavy use, TOW LOG is bound with an 11'' x 17" post binder. After your first 2,400 entries you can order replacement sheets for less than $ 40.00. Using samples from many towing companies, TOW LOG was designed by Jeff Moriarty who has 28 years experience in towing management and lien sales. TOW LOG is an excellent source for computer data input.
TOW LOG
(includes 11" x 17" post binder and (150) log sheets - 2,400 entries) $ 92.95
Replacement sheets - (150) log sheets - 2400 entries. $ 37.95
"After reviewing several vehicle storage logs, I found that TOW LOG's design fulfills our needs. TOW LOG is the best storage record that I have seen in my 45 years in the towing industry and it has become an important part of my business management."
Bob Coen, Courtesy Tow Service, San Jose, CA
TOW LOG P.O. Box 1637 Benicia, CA 94510-4637 phone 1-888-486-9564
* if applicable, sales tax, handling and c.o.d. charges will be added to merchandise